Dr. Sandra de la Ronde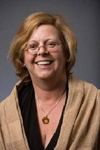 Dr. de la Ronde received her MD from the University of Toronto in 1982 and completed a residency in Obstetrics & Gynecology in 1987 at the University of Calgary. She pursued further training in Maternal-Fetal-Medicine, ultrasound, medical education and addiction medicine.
She worked for 20 years in Calgary, holding such academic posts as Chair of the Reproductive Medicine Course, Site Leader at Foothills Medical Centre and Chief of the Division of Obstetrics for the Region. From 2002 – 2010, she helped develop a Maternal – Child clinic at the Calgary Urban Project Society that provided holistic care for women and their families facing such issues as homelessness, addiction and HIV/AIDS. In 2011, she moved to Ottawa to work at the Wabano Centre for Aboriginal Health for the purpose of developing a similar Maternal - Child program for Aboriginal women. She has been an active member of SOGC, serving on Council for 6 years as alternate Chair/Chair for the Western Region. She is currently co-chair of the SOGC's Aboriginal Health Initiatives Committee.