Dr. Douglas Black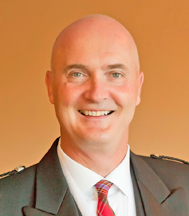 Dr. Black received his education from the Glasgow Academy in Scotland from 1962-1974 where he then continued at the Dundee University Medical School in Scotland from 1974-1980 and finally performed his Ob/Gyn Residency at the University of Ottawa 1981-1985.
Dr. Black has been an active staff member of The Ottawa General Hospital, consulting staff to The Children's Hospital of Eastern Ontario, Assistant Medical Director of Soundcare Medical Centre and Bank Ultrasound Centre, was Head of Obstetrics and Gynecology in Winchester and District and practiced at the Memorial Hospital in Winchester. He also has an extensive record of involvement at the University of Ottawa including, Assistant Professor of the Department of Ob/Gyn, Professor of the Department of Ob/Gyn and Head of the Division of Generalists OB/Gyn.
Dr. Black has been involved with the SOGC for many years representing the Ontario region as a Committee Member in 1992, a Finance Committee member from 1996-2002 and has served the Membership/Nomination Committee. He has been a part of the Executive and Council now since 2003 having served as Treasurer, Vice-President and now is the President.
His interests include; General Obstetrics and Gynaecology, Alternate model of care for Obstetrics in Canada, Interventional Ultrasound and Minimally Invasive Surgery.
Dr. Black is married with three children, 26, 24, and 17 years old. He enjoys travelling, soccer, rugby and playing golf.