Ms. Paula Lessard, RN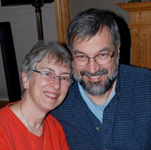 Ms. Paula Lessard is a retired obstetrical nurse. She is the mother of two daughters and is now living in Kingsport, Nova Scotia.  She is an active volunteer for Cancer Care Nova Scotia involved with cervical & other screening programs.  She is President of the Medford Branch of the Women's Institutes of Nova Scotia.
Ms. Lessard graduated from the Toronto General Hospital School of Nursing and has taken courses in nursing administration over the years.  She has worked as a Labour & Delivery nurse and held an administrative position in Toronto. She was a staff nurse in Northern Quebec and the NWT. Ms. Lessard also taught in the Certified Nursing Assistant Program through Thebacha College's campus in Yellowknife, NWT.  She was the first Executive Director for the NWT Medical Association from 1992-2001.
Ms. Lessard has encouraged & supported her husband throughout his medical practice. She assisted him in the realization of the first Aboriginal Health meeting for the SOGC in 1993.