Bulletin Board
Cuts to Aboriginal health funding risk worsening First Nations, Inuit and Métis women's health
The SOGC strongly regrets the Government of Canada's decisions concerning funding cuts to a number of key Aboriginal health organizations. We are particularly concerned about how these decisions will affect First Nations, Inuit and Métis women's health.
The Government of Canada has announced that its focus for Aboriginal health will be on front line services. Certainly, investments in front line services are urgently needed in many Aboriginal communities. They should not, however, come at the cost of First Nations, Inuit and Métis health research, promotion and prevention programs.
Greeting by Chief Atleo
The SOGC welcomes two outstanding Canadians as honorary members (pdf)
Second International Meeting on Indigenous Women's Health
September 14 to 16, 2011 in Albuquerque, NM
Come join the SOGC's Aboriginal Health Initiative at The Second International Meeting on Indigenous Women's Health, to be held September 14 to 16, 2011 in Albuquerque, NM.
Under the theme Foundations of Health: Home, Community, and Health Care Environments, the conference will bring together speakers and participants to discuss and learn about the many forces for health and wellbeing -- where women work, live, and receive care. The conference includes a wide range of both clinical and socio-cultural content that will be of great value for everyone working to promote the health of American Indian, Alaska Native, First Nations, Inuit, and Métis women.
The SOGC is proud to announce that five members of the Aboriginal Health Initiative (AHI) Committee will be speaking at the conference; Dr. Don Wilson, Co-Chair, Dr. Sandra de la Ronde, Co-Chair, Ms. Natsiq Kango, Core Member, Ms. Lucy Barney, Corresponding Member and Mr. Simon Brascoupe, Corresponding member.
Other notable Canadian Speakers include Dr. Marcia Anderson, Ms. Katsi Cook, Ms. Leslie Paulette and Dr. Janet Smylie.
A conference highlight is sure to be a Performance and session with critically acclaimed folk singer and songwriter, Buffy St. Marie.
For more information about the conference and how to register please visit:
http://hsc.unm.edu/som/cme/2011/IMIWH/IMIWH.shtml
International Indigenous Women's Health Symposium
June 21, 2011
This year, International Women's Health teamed up with the SOGC's Aboriginal Health Initiative for the International Symposium at SOGC's Annual Clinical Meeting. Held on National Aboriginal Day in Vancouver, BC, we explored Indigenous women's health experiences at home and around the world, under the theme "Providing culturally safe health services - an individual responsibility and a community experience".
The symposium has contributed to an ongoing learning process, exposing participants to innovative clinical practices, community experiences, and valuable tools that integrate cultural competency into daily health services.
SOGC members, partners, supporters and friends: Thank you for joining us at the Reception of the International Indigenous Women's Health Symposium on June 21st, 2011 in Vancouver to celebrate this momentous occasion! We warmly invite your feedback, questions and further collaboration.
Speaker Bios & Presentations
Symposium Highlights
Greeting from National Chief Shawn A-in-chut Atleo
Update! SOGC's Guide for Health-Care Professionals Working with Aboriginal Peoples
In partnership with the National Aboriginal Health Organization (NAHO), the SOGC's AHI is now advancing our Guide for Healthcare Professionals working with Aboriginal Peoples. This guideline will be developed in collaboration with a pan-Canadian group Aboriginal and non-Aboriginal special contributors and will be widely disseminated.
Our goal? To ensure that the most current knowledge and information is integrated, disseminated and utilized by health care professionals in order to improve maternal and child health outcomes among First Nations, Inuit and Métis.
The SOGC thanks the First Nations and Inuit Health Branch (FNIHB), Health Canada for its generous support for this project!
New! Joint Policy Statement: Sexual and Reproductive Health Rights, Realities and Access to Services for First Nations, Inuit and Métis People in Canada
In 2010, the SOGC teamed with the Assembly of First Nations (AFN), the Native Youth Sexual Health Network (NYSHN), Pauktuutit Inuit Women of Canada, and the Canadian Federation of Sexual Health (CFSH) to create a joint policy statement, affirming the sexual and reproductive health (SRH) rights of First Nations, Inuit and Métis (FNIM) women and youth.
Through this Statement, we aim to foster awareness about FNIM SRH rights and realities among health professionals, organizations and stakeholders across Canada, many of whom work with Aboriginal women and youth. We aim to support the delivery of culturally-safe care. This document also provides a common starting point, helping us move forward in the development of accessible, culturally-relevant public health materials and youth-driven, community-based projects to support improved SRH.
Sexual and Reproductive Health, Rights, and Realities and Access to Services for First Nations, Inuit, and Métis in Canada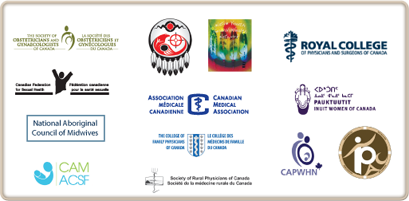 Endorsed by:
AHI at the Health Council Sessions: Promising Practices in Aboriginal Maternal and Child care
The Health Council of Canada recently conducted seven sessions with front line providers, health system managers, government representatives and others about promising practices in Aboriginal maternal and child health. Several members of the AHIC attended sessions highlighting their work and the work of the SOGC's Aboriginal Health Initiative.
Coming soon! A Compendium of Promising Practices - one of three outcomes from these sessions.